Las Terrenas is where restaurants go to die. The high season is short and frankly people go to the Dominican Republic for bargains. Wholesale food distribution is essentially non-existent and alcohol sales are competitive. Breaking even in the low season is unlikely. Unfortunately Ney did not have any part of the bar sales so he had the odds stacked against him.  We wish him the best of luck next time!
The beginning of the high season is a special time in the Caribbean. Las Terrenas is ready.
There is a real feeling of anticipation and excitement here. Today we found Chef Ney Garrido on the beach (see photos below) selecting ingredients at the Fish Market. Chef Ney has 25 years of experience in the culinary field in the Caribbean and Miami, Florida.  Now everyone has a chance to sample his expertly crafted dishes.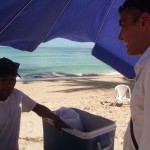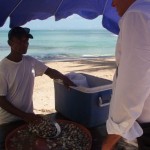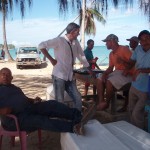 We introduce you to La Cova del Draco Restaurant!
Chef Ney is reopening what was once the famous Mambo. On Friday December 4th it will be open for dinner service. He will be specializing in Caribbean Fusion cuisine with a touch of Thai.  We will be there taking pictures and picking our favorites. More later..